Decanter centrifuge
---
Decanter centrifuge is also known as horizontal screw decanter centrifuge. Because of its high speed and the particularity of screw pusher, it can handle suspensions with a large amount of slag, and can also separate solid particles above 10 microns from the liquid. Realize automatic slag discharge, the solid moisture content of slag discharge is low, decanter centrifuge is widely used in environmental protection (domestic sewage, sludge treatment, etc.), kitchen waste, chemical industry (separation of humic acid and lye in humic acid process) , barium sulfate), light industry, pharmaceutical (separation of traditional Chinese medicine plant extract, preparation of sodium heparin, chondroitin, etc.), washing and dehydration in starch industry, food and beverage juice (purification of beverage fruit and vegetable juice, dehydration of pulp fiber, amino acids, etc.), Feed industry (DDGS alcohol residue separation process, fish meal and fish meat dehydration), separation and purification of coal tar, etc.
Decanter centrifuge
Decanter centrifuge is a machine that uses centrifugal sedimentation method to separate suspension. It passes the suspension of fine particles (particle size d>10μm) through a high-speed rotating drum to accelerate the solid-liquid sedimentation speed to achieve solid-liquid separation and make the suspension The liquid becomes relatively clean liquid and solid sludge. The decanter centrifuge is mainly composed of a drum, a screw, a differential system, a liquid level baffle, a drive system and a control system.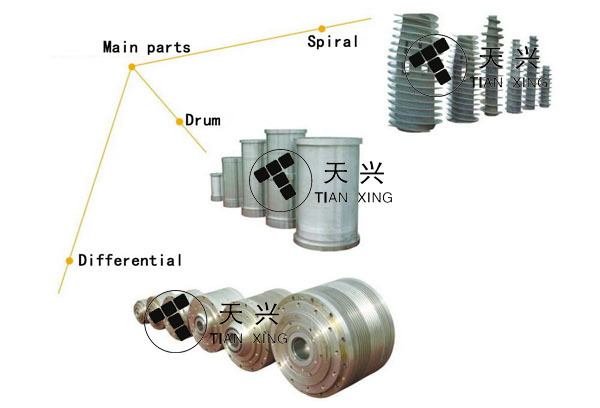 Separation Process
The separation process of the decanter centrifuge is as follows: the suspension is fed into the drum, and a cone section is designed in front of the drum. A concentric liquid layer, called the liquid ring layer. The solid contained in the material is deposited on the drum wall under the action of centrifugal force, and then the dry material is pushed to the conical end of the drum through the screw operation, and the supernatant liquid is discharged from the large end of the drum to achieve solid-liquid separation. In the casing, the drum and the screw conveyor are connected by two concentric bearings, the main motor drives the drum to rotate through the V pulley, and the drum is connected to the casing of the differential through the hollow shaft at the left bearing. The output shaft of the conveyor drives the screw conveyor and the drum to rotate in the same direction, but the rotation speed is different.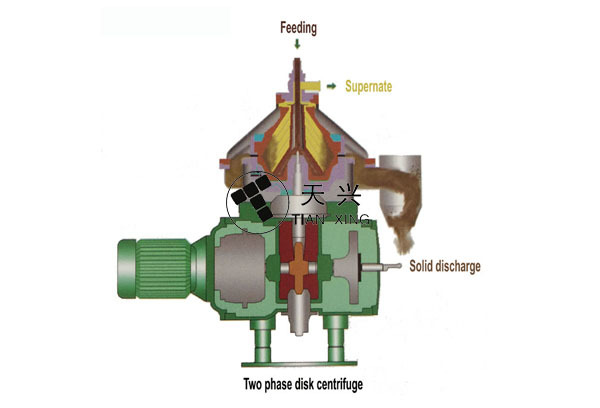 Parameter List
Model

LW

150*650

LW

220*930

LW

250*1050

LW

300*1350

LW

355*1600

LW

400*1800

LW

450*1800

LW

450*2000

LW

530*2280

LW

580*2500

Drum Diameter

mm

146

220

253

300

355

400

450

450

530

580

Drum Length

mm

650

930

1050

1350

1600

1800

1800

2000

2280

2500

L/D ratio

1:4.5

1:4.2

1:4.15

1:4.5

1:4.5

1:4.5

1:4

1:4.5

1:4.3

1:4.3

Throughput capacity(T/H)

0.1-0.5

0.5-2

0.5-3

1-10

1-20

2-25

8-20

3-35

5-45

10

Rotation Speed(rpm)

7000

4800

4800

4200

4000

3650

3600

3450

2900

2780

Separation Factor

4000

2850

3260

3000

3180

3000

3260

3000

2500

2500

Main motor(KW)

5.5

7.5

11

11

18.5

22

30

30

45

55

Size (mm)

1180*680*1150

2260*700*950

2376*750*960

2760*800*1080

3495*840*1180

3890*1020*1205

4300*1080*1315

4374*1080*1385

4924*1170*1540

5205*1270*1540

Weight(kg)

460

1000

1200

1400

2000

2500

2900

3000

5000

6500