Sedimentation Centrifuge
---
For low solid phase concentration, very fine particle size, or amorphous mycelium, if a centrifugal filter is used, the filter screen will run out of material seriously because the particle size is too fine. If the filter screen is too thin, the dehydration performance will be reduced, and the amorphous mycelium and oily solid particles will block the filter screen. Decanter centrifuge or disc centrifuge, and select the appropriate separation factor according to the particle size of solid, solid content and expected throughput capacity per hour.
Structure and working principle
The machine consists of vibration isolator, base (plate), casing, drum, upper cover, transmission parts, electric control cabinet and other parts.
The drum of this series of centrifuges is a drum without wall holes, and the liquid phase material is drawn out by an adjustable skimming tube, and no filter cloth is required during operation. The suspension enters the high-speed rotating drum through the feed port on the upper part of the centrifuge. Under the action of the centrifugal force field, the particles or liquids with higher density are deposited on the side of the drum wall (outer layer), and the liquids with lower density are deposited. On the side (inner layer) near the liquid blocking port of the drum, due to the continuous feeding, the liquid with lower density in the inner layer is sucked out or overflowed by the centrifuge through the skimming pipe or the liquid blocking plate. When the sediment (liquid or solid) reaches the specified requirements, stop charging, turn off the power supply, brake, and discharge the filter cake (or sediment) from the drum to complete a working cycle.
The sedimentation centrifuge with intermittent discharge. It looks like basket centrifuge but no filter cloth needed. It is similar to a tubular centrifuge by its principle. Sedimentation Centrifuge is suitable for the separation of suspension medium containing medium-fine granular or fibrous substances with high viscosity, strong hydrophilicity and difficult separation. In many cases, sedimentation centrifuges are often used as pretreatment equipment for tubular centrifuges due to their large slag holding volume.

According to the needs of the market, our company has developed a high-speed sedimentation centrifuge (a sedimentation centrifuge with a diameter of 600, the speed can reach 3000 rpm), which is highly praised by customers for its obvious separation effect.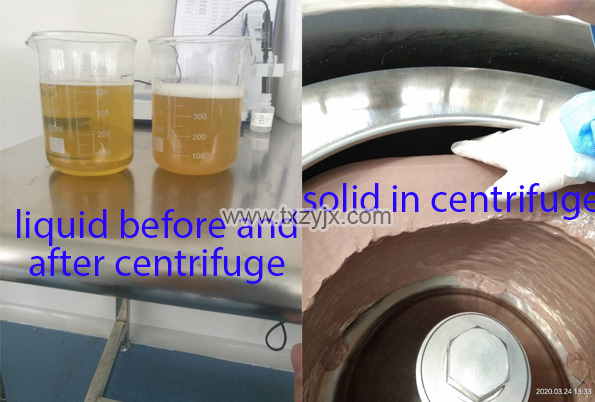 Parameter
Model

Bowl

Power

(kw)

Weight

kg

Size

(mm)

Diameter

(mm)

Height

(mm)

Diameter of baffle

(mm)

Speed

(r/min)

G-force

(g)

Volume

(L)

Max loading

(kg)

PCS260

260

160

160

4200

2568

5

6

0.75

90

660*430*550

PCSL300

300

155

180

2880

1390

6

7.5

1.8

150

500*500*720

PCS450

450

300

320

2500 / 2000

1575/ 1008

22

35

3 / 2.2

460

1050*750*850

PCS600

600

315

420

2500 / 2000

2100/ 1340

40

60

4

800

1400*1200*1040

PCS800

800

400

560

1800 / 1450

1500 / 940

100

135

7.5

1360

1650*1200*1100

PCS1000

1000

420

750

1200

806

140

200

11

2400

2000*1500*1200