Disc Separator
---
The factory is committed to the integration and innovation of various separation technologies and system processes such as industrial centrifugal separation, centrifugal sedimentation, centrifugal filtration, etc., and can provide customers with technical consultation, equipment selection, process adjustment to equipment from small test, pilot test, and industrial equipment. complete solutions for production, installation and commissioning. The factory can also undertake domestic and foreign tubular centrifuge maintenance, disc separator maintenance, decanter centrifuge maintenance and other services.
Disc Separator
It is divided into two types: clarifier and separator: the centrifuge that separates the liquid and solid phases in the suspension by the difference of the centrifugal sedimentation speed is called the centrifugal clarifier. A centrifuge that separates two liquids of different weight or insoluble by the difference of centrifugal sedimentation speed is called a centrifugal separator.
Separators and clarifiers are similar in structure and separation mechanism. The difference is that each disc of the centrifugal separator has several symmetrically distributed circular holes on the circumference at a certain distance from the axis. When many such discs are stacked, the corresponding circular holes form vertical channels.
Working Principle
The disc separator is a vertical centrifuge, the drum is mounted on the upper end of the vertical shaft, and is driven by a motor to rotate at a high speed through a transmission device. Inside the drum is a set of disc-shaped parts, called discs, which are nested with each other. There is a small gap between the disc and the disc. The suspension (or emulsion) is fed into the drum from a feed tube located in the center of the drum. When the suspension (or emulsion) passes through the gaps between the discs, the solid particles (or droplets) settle on the discs under the action of the centrifuge to form a sediment (or liquid layer). The sediment slides along the surface of the disc to break away from the disc and accumulate in the largest diameter part of the drum, and the separated liquid is discharged from the liquid outlet of the drum. The function of the disc is to shorten the settling distance of solid particles (or droplets) and expand the settling area of ​​the drum. Due to the installation of the disc in the drum, the production capacity of the separator is greatly improved. The solids accumulated in the drum are disassembled and removed manually after the separator is stopped, or discharged from the drum without stopping the machine through the slag discharge mechanism.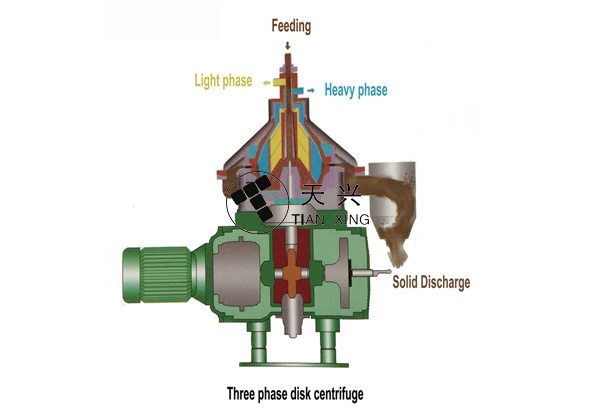 Parameter
| | | | | |
| --- | --- | --- | --- | --- |
| Model | DHY230 | DHY300 | DHY400 | DHY500 |
| Throughput capacity(L/H) | 50-300 | 500~800 | 1000~3000 | 2000~7000 |
| Rotation Speed(rpm) | ~7546 | ~8060 | ~7200 | ~ 6600 |
| Motor(KW) | 1.5 | 4 | 7.5 | 15 |
| Size(L*W*H)mm | 700*550*800 | 810*968*1139 | 1495*1130*1485 | 1800*1200*1750 |
| Weight(kg) | 120 | 580 | 1000 | 1800 |